About Johnson and Conroy Agency, Inc.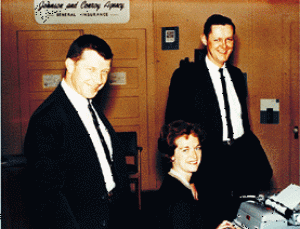 Johnson & Conroy Agency, Inc. is an Independent Insurance Agency that was founded on June 2, 1962 by Al Johnson and Hank Conroy. With an initial investment of $150 each, they opened at 244 East Main Street in Port Jervis. Five years later the Agency relocated to 122 Jersey Avenue and then in 1974 it moved to 74 Jersey Avenue, it's present location.
The Agency lost one of its founders in April of 1989 when Al Johnson passed away after a short illness. On July 1, 1994, co-founder Hank Conroy retired. Lisa VanInwegen (Hank's daughter) took over the family business and remains President of the Agency. Richard Hugel joined the Agency in 2000 and became an officer and shareholder in 2002.
We offer complete insurance services in NY, NJ, PA.
Let our Staff with over 75 years of combined experience assist you: